Hollywood stars require considerable skill and effort. Executing a character perfectly on screen is a task in itself. But some go the extra mile to portray more than one character in the same movie. Take on Lindsay Lohan's memorable role as Hallie and Annie in The parent trap for example. The two were opposites, and she did a phenomenal job portraying the contrasting characters, fooling the audience into thinking Lindsay had an identical twin.
Here is a list of outstanding Hollywood stars who played dual roles in the same movie and did an amazing job!
1. Mike Myers in Austin Powers: Mike Myers has made a name for himself by playing several roles in his films. In Austin Powers: The International Mystery Man, he plays the lead role of spies Austin Powers and his infamous nemesis Dr. Evil. He went ahead and added more characters to play in the film's sequels.
2. Johnathan Hyde in Jumanji: We've all had nightmares about the villain Van Pelt from Jumanji. Curiously, it's the same actor who plays Alan's father in the film. While there's no official statement as to why he was cast in both roles, it's safe to assume that the mystical world was created based on Alan's worst fears, one being his own father.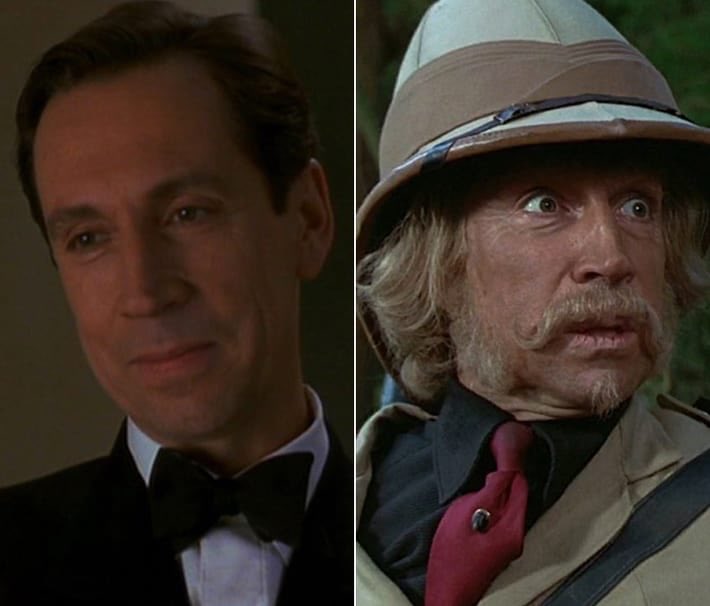 3. Paul Dano in There Will be Blood: Paul Dano's performance in There Will be Blood is one of the most remarkable performances in Hollywood history. After Kel O'Niell was fired, the role of Eli was offered to Dano, who was already playing Paul Sunday. Dano went on to earn a Best Supporting Actor BAFTA nomination for the film.
4. Eddie Murphy in Coming to America: Eddie Murphy, or Hollywood's Master of Disguise as he is infamously known, is known for his multiple appearances in the 80s movie, Coming to America. Two of his four roles included an old Jewish man and a singer.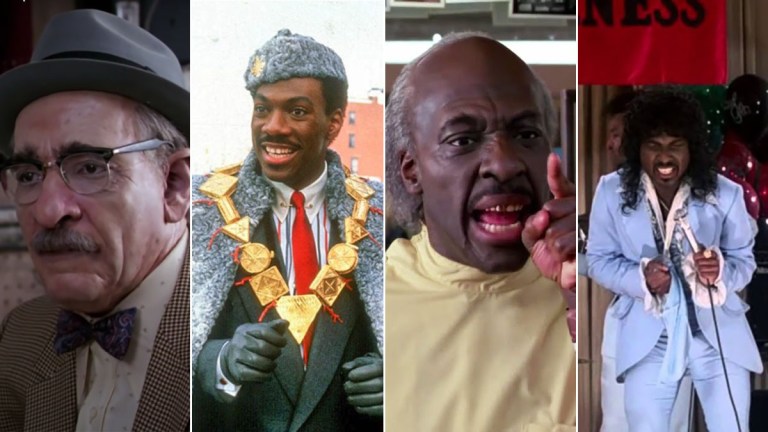 5. Dick Van Dyke in Mary Poppins: Bert, with his Cockney accent, is one of Walt Disney's most beloved characters. But that wasn't Dyke's only role in the film. Mr. Dawes, the bank manager, was also played by Dyke with the help of more than a little touch-up. The Hollywood star continued to play Mr. Dawes Jr. in the sequel, except he ditched makeup this time around.
7. Tom Hardy in Legend: Tom Hardy is known as a versatile performer and has worked in many action and crime films. In Legends, we saw him step out of his comfort zone by playing the Kray twins. While the film itself didn't do very well, Hardy received plaudits for his performance.
8. Benedict Cumberbatch in Doctor Strange: It's no surprise that many actors play multiple roles in Marvel movies. For example, before being known as Captain America, Chris Evans appeared in the early 2000s Fantastic Four franchise, playing Johnny Storm. However, in the case of the British actor, not only did he play the superhero in the Marvel movie, but he also played the main antagonist. Cumberbatch did motion capture for Dormammu and voiced the character alongside another actor.