valimai equals hollywood movies..!?
Producer's friend boney Kapoor who saw the long-awaited valimai film spoke proudly about the film. 'Valimai' is a mass action movie directed by H. Vinod and starring Kollywood's biggest star, Ajith. The film will be released in Tamil, Telugu and Hindi and the film also stars Huma Qureshi, Karthikeyan, Sumitra, Yogibabu and Cook with fame comali Pugazh. All the songs released from the film were well received by fans.
The Censorship Board recommended the deletion of certain violent, pornographic, etc. scenes. in the film and the film has been certified U/A. Promotional work for the film is currently underway as filming for the film has been completed. The film is expected to hit theaters on the 24th of this month as the team postponed the film's release earlier due to the Corona infection.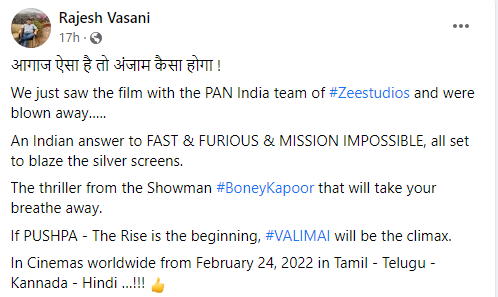 Boney Kapoor's friend had said that this movie 'Valimai' is the Indian movie made in retaliation to hit movies like FAST & FURIOUS and MISSION IMPOSSIBLE in Hollywood. The film is a theatrical release. This post got Ajith fans excited. The already released trailer had aroused huge interest. Currently, this post by him has attracted more attention.